MOISTURIZING CREAM FOR DAMAGED SKINS
Indications:
Eczema, psoriasis, anal fissure, dry skin, cracked heels, belly cracked after pregnancy, different wounds and burns, dark eye circles and skin bruises. This cream is used for repair and renewal of damage skin.
One of benefits of this cream is that it increase bloodstream in area that causes increase in making granule tissue and results in faster treatment. When blood stream increases in the area, the immune system strengthens and prevents infection in the place.

Damaged hair strengthener, anti hair-loss, damaged dry and dyed hair conditioner.

Indications:
Those who are interested to keratin hair treatment with low cast and high effect.
Smoothness and softness of damaged, dry and dyed hair.
Nourishing and anti-hair loss.
Face and hand anti-wrinkle
30% to 40% keratin therapy without contraindication.

How to use:
Wash your hair with pre-keratin shampoo well. Dry 80 percent of hair wet by towel and smear a few amount of cream to your hand and message hair from roots to ends and then wash your hair with after-keratin shampoo two hours later (two times a week).
Dyed hair strengthener, anti hair loss and damaged, dry and dyed conditioner.
Warnings:
Stop using the cream in the case of allergy or irritation.
How to use the medicine:
In order to repair and renewal of damaged skin, message the skin area(once or twice a day).
Side effects:
Topical use of cream had no irritation effects on skin and no side effects have been reported till now.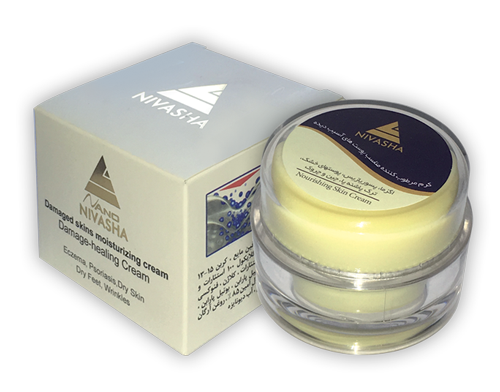 Contraindications:
People sensitive to herbal ingredients of cream, don't use it.
Indications:
This cream is applicable for eczema, psoriasis, anal fissure, dry skin, cracked heels, wrinkles, dark eye circles, skin bruises, skin and hair repair.
Pharmacological effects:

This cream prevents bacteria growth on skin by increasing viscosity.


it contains enzymes which speed up healing and new tissue formation process.
Preferences of using Nivasha cream:

Nivasha cream has herbal effective ingredients


This cream has no foreigner or native resemblance


the cream has a great application for repairing damage skin, acne traces reparation, hit, surgery, spot color change of skin due to sunburn, having contact to skin damaging materials , and different skin dermatosis.

One of the advantages of this cream is increasing blood stream in the area that speeds up granule tissue formation and as a result healing sooner. By increasing bloodstream in the area, the immune system strengthen and prevent infection.
| | |
| --- | --- |
| Catalogue file download | Download Poster |
| | |